Driving Corporate Action Towards Accomplishing The SDGs
The Sustainable Development Goals (SDGs) were established by the United Nations as the ambitious roadmap towards a sustainable future. The success of the SDGs hinges on the ability to engage the private sector and unleash their innovative power.
From the inception of the SDGs, GRI has championed the participation of the private sector in measuring and achieving progress. In July 2019, GRI and Enel announced an exciting partnership to explore how the private sector can actively contribute to the SDGs.
GRI and Enel hosted two live online moderated discussions which brought together key stakeholders from academia, business, policy makers and NGOs, among others. The collaborations forums attracted around 800 participants from over 50 countries across the world.
Forum One on 8th October 2019 explored the current state of play on the role of reporting and partnerships to drive corporate change in accomplishing the SDGs. Read the summary report which shares the learnings from the discussion and identifies key challenges and initial priorities for action.
Forum Two held on 14th November 2019 built on the outcomes of Forum One and looked at how to develop a vision on what needs to be done to strengthen the role of future SDG reporting, to enhance sustainable business practices, and actions, to stimulate new partnerships and business models to accelerate corporate SDG action. Read the summary report.
The outcome of both forums will inform the plans from GRI and Enel to develop solutions and continue the dialogue around the world through regional events, during 2020.
Establishing the State of Play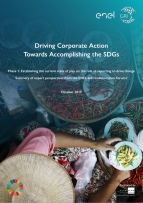 Scoping a Vision