Scoping a Vision Towards Accomplishing the SDGs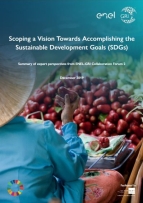 GRI and Enel partnered with GlobeScan to host two live online moderated discussions in 2019 to explore how the private sector can actively contribute to the Sustainable Development Goals (SDGs).
The second forum in this series took place on 14 November 2019, to gather ideas and scope the vision for change, with 389 individuals from 59 countries taking part. This online discussion built on the outcomes of the first forum held in October, where current practice for SDG corporate reporting was explored.
This report summarizes the key highlights and ideas put forward from the Forum 2 discussion. The outcome of both forums will inform GRI and Enel's development of solutions and enable them to continue the dialogue around the world in regional events throughout 2020.
Download the report

Content goes here