Materials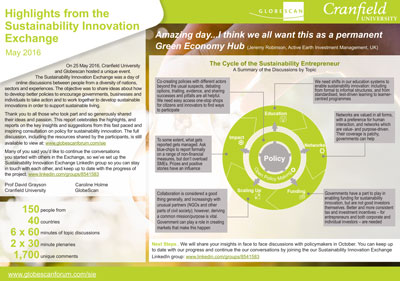 On 25 May 2016, Cranfield University and Globescan hosted a unique event. The Sustainability Innovation Exchange was a day of online discussions between people from a diversity of nations, sectors and experiences. The objective was to share ideas about how to develop better policies to encourage governments, businesses and individuals to take action and to work together to develop sustainable innovations in order to support sustainable living.
Thank you to all those who took part and so generously shared their ideas and passion. We've put together a post-event summary report that celebrates the highlights, and reports on the key insights and suggestions from this fast paced and inspiring consultation on policy for sustainability innovation. The full discussion, including the resources shared by the participants, is still available to view in the relevant session pages.
Many of you said you'd like to continue the conversations you started with others in the Exchange, so we've set up the Sustainability Innovation Exchange LinkedIn group so you can stay in touch with each other, and keep up to date with the progress of the project.
Below are some videos introducing the Sustainability Innovation Exchange and the different topics of discussion, featuring our Cranfield University moderators. This page also includes all of the graphics and documents shared on the discussions, as a central hub for sustainability innovation materials.

Whether or not you were able to take part in the day, please take 3 minutes to complete our post event survey here. Your responses will help us, and policymakers, to understand the impact of this type of open consultation process. Thanks to everyone who has already done this!
: May 25 '16, 9:00am-May 25 '16, 9:30am GMT
: May 25 '16, 9:30am-May 25 '16, 12:30pm GMT
: May 25 '16, 9:30am-May 25 '16, 12:30pm GMT
: May 25 '16, 9:30am-May 25 '16, 12:30pm GMT
: May 25 '16, 1:00pm-May 25 '16, 3:00pm GMT
: May 25 '16, 1:00pm-May 25 '16, 3:00pm GMT